Initiative, Reflection and Wanderlust – Day 2

Day 2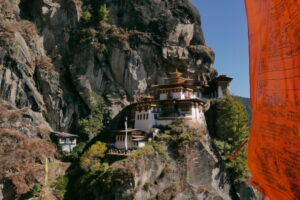 These days Bhutan is celebrating its very own concept for sustainable tourism that was established 50 years ago – leaning into the motto: High Value – Low Volume.
Even if the number of tourists is no longer limited, high quality rules apply to entry and stay in the country: Tourists only travel in the company of trained tour guides like Tashi and book their trip through local agencies or international affiliates. The high daily price that must be paid with the visa fee is a deterrent to many. But for 200 – 250 USD per person and per day you get a "full carefree package", so to speak:
• high-quality 3-star hotels, homestays or mountain tour- and camping-equipment
• 3 meals a day or a cook on guided camping tours in the mountains
• Transport and entrance fees
• a driver and a tourist- or mountain guide who accompany you to the most remote mountain lakes, temples and villages and convey the special culture of this magic country with a lot of knowledge and experience
Tourism is Bhutans' second largest source of economic income, alongside electricity from the hydropower of the glacial rivers  – and this source has dried up since March 6, 2020. Thanks to the dedicated care of the royal family and the rigorous health management in a government led by two medical professionals as prime minister and female health minister, Bhutan is able to keep the infection rate in moderate balance to some extent. There are only two deaths as of December 2021, and as of October 2021, nearly 90% of the population older than 18 has been fully vaccinated with Astra Zeneca, Moderna and Biontec vaccines donated by India, Europe and the US. Due to the continued critical situation in the neighboring countries of China, India and Nepal as well as around the globe, Bhutan, which is struggling with a dramatically decreased gross domestic product and facing very vulnerable but at low level stable health care, remains closed to the large tourist influx for the time being.
A sense of initiative, time for reflection and a lot of untouched nature to wander
In the first spring / summer, some like-minded people around Tashi organize themselves in Paro in order to support each other with an urban farming concept in this phase without income. But with the monsoon, the first tender plants of hope of this initiative also swim away and most of them return home to their rural homes.
With a heavy heart, Tashi gives up her apartment and travels home with her daughter to Eastern Bhutan to help her parents on the rice farm.
Now Tashi has a lot of time, even when she and the other villagers prepare the local rice fields for the autumn harvest. Both in her home village and in her new, more urban home, Tashi is surrounded by a breathtaking cultural landscape. Paro and Thimphu are at over 2,000 meters above sea level. There are only a handful of pilots who control the runway of the international airport in the vast Paro Valley, surrounded by 6,000 – 7,000 high snow peaks.
Her village and her parents' rice farm are located in a semi-tropical climate zone at only 1,500 meters above sea level. Towards the border to Assam in the East, the valley rises on one of the highest alpine pastures for yak herds in Bhutan, which are looked after, cared for and commercially managed by semi-nomads at over 4,000 meters above sea level.
Tashi was used to being in nature a lot in her professional life. In order not to brood over the currently rather hopeless perspective, Tashi seeks balance in extensive hikes and jogging. No matter where – it always goes uphill! Sometimes she is traveling alone, sometimes she takes her cousins ​​and older nieces with her, but more and more often she is accompanied by a German engineer who is staying and working in Bhutan for an international development project even during the corona lockdown. Thorsten, the German engineer who lives in Alaska, is also an experienced runner and so the two of them are going more and more often on demanding day and weekend tours.
More about Tashi's story to follow tomorrow – but for now stay tuned for …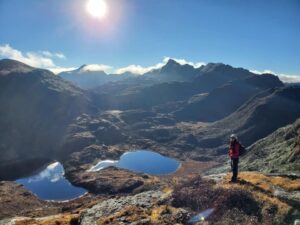 Fundraising for Tashi's climate action run
I will continue to accompany Tashi on her way – no, definitely not with my experiences from my own poor athletic career. But there is so much inspiration in accompanying and promoting Tashi's transformation journey: courage, passion, engagement, connection to nature, connection to the inner compass, gratitude, perseverance and overcoming setbacks, inner limiting experiences, change, development – these are values ​​and potentials which empower Tashi to find her happiness and purpose, to grow beyond herself and to remain resilient and confident in these difficult times.
And Tashi is one of the very few women in her country to be involved in an action that concerns all of us: run for the endangered climate of our planet.
With all of these values, I stand with my services for empowered value creation and the development of inner growth with the courage to change.
So that Tashi and her family do not run out of financial resources and to ensure that she has good training conditions with the right clothing and equipment, I will be a sponsor for Tashi for the next few months.
Here is a small shopping list about what Tashi needs which shows how every donation, no matter how small, is well invested:
several pairs of running shoes for training and also for different types of terrain during the race
a running vest with an integrated backpack
rainproof clothing
Outdoor sleeping bag for temperatures around freezing point for the night breaks during the race
Headlamp
Shipping
None of this is available in Bhutan and has to be sent from abroad with increased effort. Her German trainer and I have already donated a special watch to measure her training progress, pulse, oxygen, kilometers run and meters in altitude.
If you want to contribute with a donation, you are welcome to do so:
PayPal Link – I will be happy to issue you a receipt of your donation *:
Or on a Facebook donation campaign that will run until the end of December.
On facebook / instagram as well as here on this blog and in my newsletter I will report to you regularly about the development and experiences of Tashi!
And if you don't use paypal or facebook: just contact me to find out the bank details for your donation *.
* Since this is a private fundraising initiative for a private person outside of Germany, I am currently unable to issue a tax-valid donation receipt. I am currently negotiating with the organization team of the Snowman Race to be registered as an official sponsor for Tashi Chozom. And I am building on the swarm intelligence of this readership to learn how this donation campaign can be carried out and distributed cleanly, transparently and possibly valid for your tax advantage! Write to me in your comments or in a personal message on my contact page if you have an helpful advice to share!
More about the snowman race to find here:
Instagram: #snowmanrace #womanraceforclimate
https://www.facebook.com/snowmanrace