Inner Compass for Change – Day 3

Day 3
P
art 3 of Tashis' story – Initiative, Reflection and Wanderlust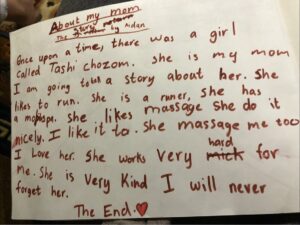 When schools reopen after the winter lockdown in Bhutan, mother and daughter return to the West. Tashi follows a training in Bhutanese and Tibetan herbal medicine, which is supported by the Tourism Association for unemployed tour guides. The Buddhist spirituality and culture of Tibet is deeply rooted in Bhutan.
Tashi now lives in her brother Tshering's apartment in the capital, Thimphu. Tshering has its own tour operating agency and a bus for travel groups – and has therefore been without an income since 2020 as well. Tshering has joined the civil defense. This force set up by the king helps to secure the infrastructure for basic and health care in crisis situations such as the current pandemic. Tshering is also a single parent and his 12-year-old daughter still lives in his household. The siblings now share responsibility for the supervision and basic needs of their small family. Two older sisters and numerous relatives also live not far away and support each other.
After completing her training, Tashi founds a mobile spa service with the few financial means she still has: she offers massages and aroma therapies for the stressed city dwellers in Thimphu – of course the new business is developing very slowly – but the treatment methods are relevant for the locals: The knowledge about and living with traditional rituals for mental and physical well-being are not a luxury allure that is copied in Bhutan from the spa and wellness-obsessed West, but are a natural part of everyday life.
Tashi's Courage to change with Wanderlust
With the qualification run for the Snowman Race, something manifested itself in Tashi's life that she had not specifically planned for. In a video chat a few weeks ago, she told me that she wasn't that interested in the competition, especially not wanting to prove something to herself and others as the winner.
Exercising in nature and exploring rare plants in pristine places of power that are literally sacred to the locals in their deeply rooted spirituality – that is what drives her. In addition, with the regularity of training (she jogs every day in the mountains of Thimphu and goes on day trips as often as possible on the weekend), the new feeling of testing her limits and growing both mentally and physically encourages her. It gives her life more meaning and she has found a way not only to be there as a caring mother, daughter and sister for her family in times of crisis, but also to stay in touch with herself and her growing experiences in embracing the transformational rule of life.
She also says that she would like to win other women for this experience – but only a few around her dare to do what Tashi discovered for herself by chance and without missionary seriousness.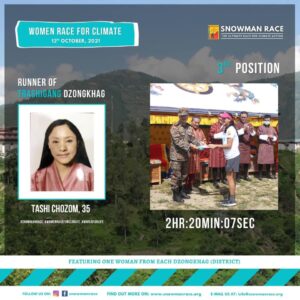 In October 2021, Tashi took part in another race. Compared to the qualifying run in April, this race of only 18 km was actually a "no brainer" for Tashi. Every district was represented by one woman. Tashi represented the district of her home village, Trashigang, and was considered a favorite. This time she crossed the finish line in third place – the television station sees her in first or second position for a long time.
It's Tashi's worst performance so far. We talk on the phone after the race and I can feel how exhausted she is. She says that she was not in a good health status. She had a cold in her bones and the day before the race she probably ate something wrong. Already in the first third everything felt completely different than usual – much, much more tiring. A setback on a comparatively short distance that seemed so easy to master! But Tashi is grateful to have made it – and for her health constitution reaching 3rd place was outstanding. On the other hand, it makes Tashi even happier to have been there and to continue to have experiences that enrich her life during this really difficult time.
Successful participation in the Snowman Race competition in October 2022 may remain the outer goal for which Tashi will train next year. In the meantime Tashi has already found her inner compass for her own transformational development in this crisis.
So this is the story of Tashi. I hope it sounds worth to invest in for you:
Fundraising for Tashi's climate action run
I will continue to accompany Tashi on her way – no, definitely not with my experiences from my own poor athletic career. But there is so much inspiration in accompanying and promoting Tashi's transformation journey: courage, passion, engagement, connection to nature, connection to the inner compass, gratitude, perseverance and overcoming setbacks, inner limiting experiences, change, development – these are values ​​and potentials which empower Tashi to find her happiness and purpose, to grow beyond herself and to remain resilient and confident in these difficult times.
And Tashi is one of the very few women in her country to be involved in an action that concerns all of us: run for the endangered climate of our planet.
With all of these values, I stand with my services for empowered value creation and the development of inner growth with the courage to change.
So that Tashi and her family do not run out of financial resources and to ensure that she has good training conditions with the right clothing and equipment, I will be a sponsor for Tashi for the next few months.
Here is a small shopping list about what Tashi needs which shows how every donation, no matter how small, is well invested:
several pairs of running shoes for training and also for different types of terrain during the race
a running vest with an integrated backpack
rainproof clothing
Outdoor sleeping bag for temperatures around freezing point for the night breaks during the race
Headlamp
Shipping
None of this is available in Bhutan and has to be sent from abroad with increased effort. Her German trainer and I have already donated a special watch to measure her training progress, pulse, oxygen, kilometers run and meters in altitude.
If you want to contribute with a donation, you are welcome to do so:
PayPal Link – I will be happy to issue you a receipt of your donation *:
Or on a Facebook donation campaign that will run until the end of December.
On facebook / instagram as well as here on this blog and in my newsletter I will report to you regularly about the development and experiences of Tashi!
And if you don't use paypal or facebook: just contact me to find out the bank details for your donation *.
* Since this is a private fundraising initiative for a private person outside of Germany, I am currently unable to issue a tax-valid donation receipt. I am currently negotiating with the organization team of the Snowman Race to be registered as an official sponsor for Tashi Chozom. And I am building on the swarm intelligence of this readership to learn how this donation campaign can be carried out and distributed cleanly, transparently and possibly valid for your tax advantage! Write to me in your comments or in a personal message on my contact page if you have an helpful advice to share!
More about the snowman race to find here:
Instagram: #snowmanrace #womanraceforclimate
https://www.facebook.com/snowmanrace