Christmas Countdown – The Adventure of Change – Day 1

Day 1
Christmas is arriving again and we celebrate the Advent season. I have just read my last Christmas post in 2020: Advent stands for a life stage of arrival: to overcome one stage of a journey, let go what comes to an end – and then allow something new to be born.
So this year again I travel through the Christmas Countdown, sharing stories of transformational adventures (the word adventure comes from the latin word "advenere", which is the reason why it sounds so similar to the word "Advent") of becoming, letting go and change.
I start with a story, which is deeply rooted in my heart. From 1st to 3rd December I share the journey of becoming of Tashi Chozom from Bhutan. Tashis' story stands for all for what I lean in on this platform and with my services – she represents literally WANDERLUST for change with courage.
With this 3-part story I also link a fundraising campaign to which I would like to draw your special attention. But now let's first get to the story of Tashi: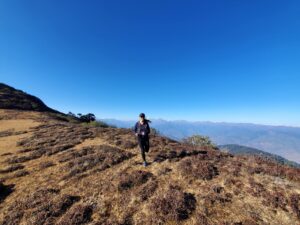 42 km ultra marathon in the Himalayas
I have been deeply connected to a family in the Himalayas since my first Bhutan trip in 2014 and Tashi is like a second sister to me. In the spring of this year I became aware of her increasing sporting activities more by chance through a Facebook entry from Tashi. As soon as I realized what was happening, the images from the national television channel in Bhutan were spreading on social media:
Tashi is the first of 7 women to cross the finish line, where her coach and the congratulatory committee of the Snowman Race Initiative await and celebrate her performance. On that day in April 2021, Tashi ran the marathon distance – on a route that began at an altitude of 2,400 meters and rose to an altitude of 4,200 meters. It took Tashi 9 hours and 41 minutes for this run …
With this enormous achievement, Tashi Chozom qualified for participation in the Snowman Race!
In conversations with Tashi it becomes clear to me: My delayed understanding is not due to the great distance or the so different living conditions between the home of Tashi and my home office cocooning in a peaceful, prosperous small Swabian town. It has more to do with the dimensions of a classic marathon run through the Berlin Tiergarten or through Manhattan and Brooklyn (not pretending that I had ever experienced that for my own) on the one hand and the completely different requirements of a marathon route in the thin air of the Himalayas on the other hand – there is no place for 42 km without ascent.
In fact, Tashi can hardly believe it herself – she has never taken part in a marathon or half marathon. Marathons are also popular in Bhutan – the most famous and media-effective marathon takes place every autumn before the pandemic.
And I realize something else: in retrospect, there is no plausible reason why this competition was previously reserved for male participants. The initiators in Bhutan obviously also realized this when, shortly before the outbreak of the pandemic, they were planning to make this marathon internationally known in the media. So that's how the first qualification run for women in Bhutan took place in spring 2021 – while the male participants for this year had already been qualified two months ahead.
The Snowman Race in Bhutan
The Snowman Trail in Bhutan is considered to be one of the most challenging high mountain trails in the entire Himalayan region – even under "normal" hiking- and trecking conditions. Before the pandemic, a national race took place every year in which only men had participated so far: a 222 km run in 5 days in the high mountains. It was planned for 2021 to open this extreme race to international as well as for female participants and to turn it into a PR-effective campaign to promote sustainable climate action. Due to the pandemic, this race has now been postponed to October 2022.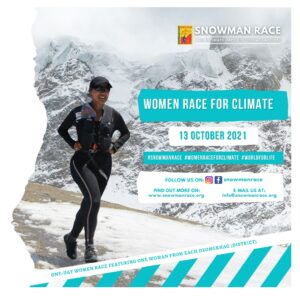 The story of Tashi
Tashi is a popular travel guide for tour groups from the USA, Australia, China or Europe who want to experience the nature, culture and people of the small Himalayan kingdom. Tashi is warm-hearted with an appearance of strong inner sovereignty. Her compatriots and clients in Bhutan appreciate her open, reliant manner. The single mother can afford a small city apartment in Paro for herself and her daughter with her income – her small island of urban independence.
In addition to the capital Thimphu, the two largest cities in the country in the more urban west, Paro is a preferred place of residence and center of life for aspiring, young and professionally active people – many of them from far away, rural regions, mountain villages and fertile river valleys. Most of their parents are farmers and trade-people who manage their own farmland in very simple living conditions. For Tashi and her 4 siblings there were little prospects on the parental rice plantation in the far east of the developing country Bhutan. So after her school education and a period abroad in Thailand she got educated as a travel guide in a significantly increasing economical sector for this country.
More about Tashi and her transformational journey to read in the 2nd part tomorrow – for now let's focus to support Tashi: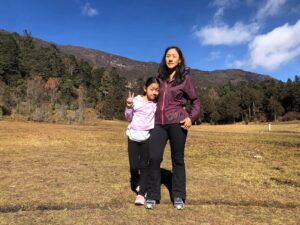 Fundraising for Tashi
I will continue to accompany Tashi on her way – no, definitely not with my experiences from my own poor athletic career. But there is so much inspiration in accompanying and promoting Tashi's transformation journey: courage, passion, engagement, connection to nature, connection to the inner compass, gratitude, perseverance and overcoming setbacks, inner limiting experiences, change, development – these are values ​​and potentials which empower Tashi to find her happiness and purpose, to grow beyond herself and to remain resilient and confident in these difficult times.
And Tashi is one of the very few women in her country to be involved in an action that concerns all of us: run for the endangered climate of our planet.
With all of these values, I stand with my services for empowered value creation and the development of inner growth with the courage to change.
So that Tashi and her family do not run out of financial resources and to ensure that she has good training conditions with the right clothing and equipment, I will be a sponsor for Tashi for the next few months.
Here is a small shopping list about what Tashi needs which shows how every donation, no matter how small, is well invested:
several pairs of running shoes for training and also for different types of terrain during the race
a running vest with an integrated backpack
rainproof clothing
Outdoor sleeping bag for temperatures around freezing point for the night breaks during the race
Headlamp
Shipping
None of this is available in Bhutan and has to be sent from abroad with increased effort. Her German trainer and I have already donated a special watch to measure her training progress, pulse, oxygen, kilometers run and meters in altitude.
If you want to contribute with a donation, you are welcome to do so:
PayPal Link – I will be happy to issue you a receipt of your donation *:
Or on a Facebook donation campaign that will run until the end of December.
On facebook / instagram as well as here on this blog and in my newsletter I will report to you regularly about the development and experiences of Tashi!
And if you don't use paypal or facebook: just contact me to find out the bank details for your donation *.
* Since this is a private fundraising initiative for a private person outside of Germany, I am currently unable to issue a tax-valid donation receipt. I am currently negotiating with the organization team of the Snowman Race to be registered as an official sponsor for Tashi Chozom. And I am building on the swarm intelligence of this readership to learn how this donation campaign can be carried out and distributed cleanly, transparently and possibly valid for your tax advantage! Write to me in your comments or in a personal message on my contact page if you have an helpful advice to share!
More about the snowman race to find here:
Instagram: #snowmanrace #womanraceforclimate
https://www.facebook.com/snowmanrace